Seasonal Update
The Goulburn Valley has received a good break in the weather this week following on from widespread falls. The Goulburn Valley is green, with good pasture growth in the region. Seeding is well under way now and crops such as barley and canola are currently being planted. The area is forecast for more rain in the coming week, with a rush expected to get the final planting complete.
In Victoria, more rain has continued to provide a favourable start to the season, prompting farmers to continue seeding new season crops.
Trading and Marketing
Enquiries have increased in the Goulburn Valley, but this is marginal. There is significantly less hay moving from the region compared to 2-3 months ago. Hay loads have continued to move into the Cooma area due to persistent dry conditions in the area. This has included canola hay.
There has been some discussion this week about expected opening milk prices and the implications it could have on the hay market.
Currently, there are low volumes of non-contractual hay being transported and many farmers are trying to discontinue contracts. With more hay on the market, it is becoming easier to source high-grade products.
Since spring 2017, when the depth of hay demand became apparent, the domestic market has been quantity driven. Without a drought market to take hay without too many questions, hay sellers will need to re-focus on quality to suit export markets, especially as new export plants continue to build capacity and throughput in Victoria and the Riverina.
Prices
Prices noted for this week:
All prices remain steady this week.
| | | | |
| --- | --- | --- | --- |
| | Change | per t | |
| Cereal hay | +/- $0 | $220-280 | Steady |
| Lucerne hay | +/- $0 | $420-650 | Steady |
| Straw | +/- $0 | $90-140 | Steady |
| Pasture hay |  +/- $0 | $250-330 | Steady |
Pictures of New Season Crops
Hay: Oaten Hay LPRD (Low Premium Rain Damaged)
Specifications: Feels crunching, minimal amount of weather damage spots, fresh aroma, <1% Rye Grass, <1% Barley, JC-2 colour (75% Green) and JC-2 stem size (<8mm)
Location: Kaniva, VIC 3419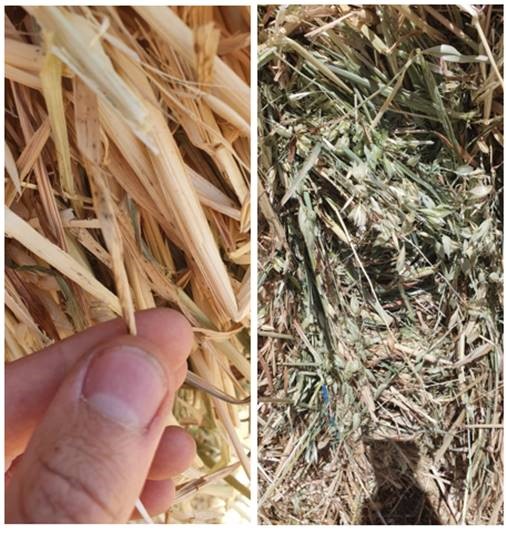 Sources: Bureau of Meteorology, Elders Weather, Dairy Australia, WX Maps, Lachstock Research, Weekly Times, Grain Central, Mecardo Expert Market Analysis & Feed Central, Wingara AG Limited.
By Katie Lindkvist, Wingara AG.