Seasonal Update
More scattered rain fell in the East Coast last week. Good rainfalls across most of QLD, a much wider spread across NSW and VIC; 0-100mm variations recorded at different geographies.
Rainfalls over the past 3 months are now reaching the stage of significance for croppers managing weed burdens and banking moisture for the season ahead, whilst graziers enjoy some pasture growth from the Summer storm season. East Coast rainfall has seen a spike in chemical sales and fertiliser commitments for the season ahead. Most clients are currently busy with seed grading and fertiliser logistics for the sowing season.
Although the return of monsoonal rains are a very good sign, it's a little early to call the Autumn break or end of the drought. Even with an early break, the earliest our Northern Mallee or Millewa growers will commence sowing early crops like oats or canola in mid to late March. Traditionally on a dry or late start, ANZAC day marked the start of sowing for Central growers. But as growers scale have grown significantly, to get the hectares in the ground within an acceptable window, even Central growers have pushed back to early April in drier breaks.
As many sowing campaigns are now 6-8 weeks, sowing is now trending towards a calendar-based start with a slight bias for an early or late seasonal break.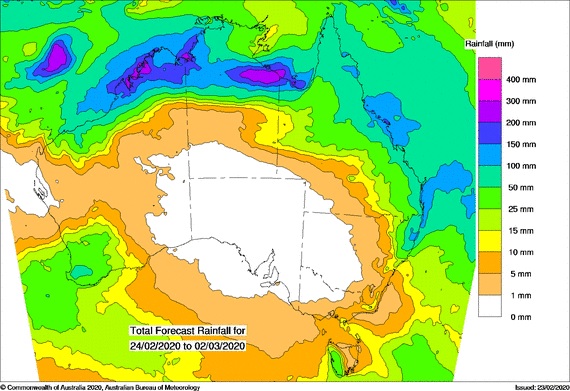 Trading and Marketing
As per last week's update, new season hay has moved fast with many farmers in the region who have sold out of cereal hay.
A lot of the hay on the market is now low grade.
Demand for cereal hay has eased a little, however, it is still strong; largely coming from north of the region. Some loads of hay have been cancelled due to the recent rain and subsequent pasture growth. There are round bales of cereal hay on the market and these are priced cheaper.
A lot of lucerne in the region is being made into small squares. The quality of lucerne is varied which is reflected in the large price range.
Demand has gone quiet for most of the eastern states. Demand is still strong in central west NSW and is driving some of the enquiry for hay in VIC.
With the market quietening down prices have stagnated.
So far this season's cereal hay prices ex-farm have peaked at about AU$320 a tonne in the Victorian Mallee, AU$300 in the Wimmera, AU$300 in northeast VIC and about $280 in the Western Districts.
Despite slowed demand in the short term with the welcomed Summer storms, there is still the tail-end of Summer and early Autumn to get through before further assessments can be made for the season ahead. At the moment, models are fairly neutral for the season ahead. As below, most key cropping areas, and East Coast in general, forecasts for March-May shows around 50% chance of exceeding the median rainfall. This suggests that we'll need to be unbiased or planning for an "average base" season until the data suggests differently.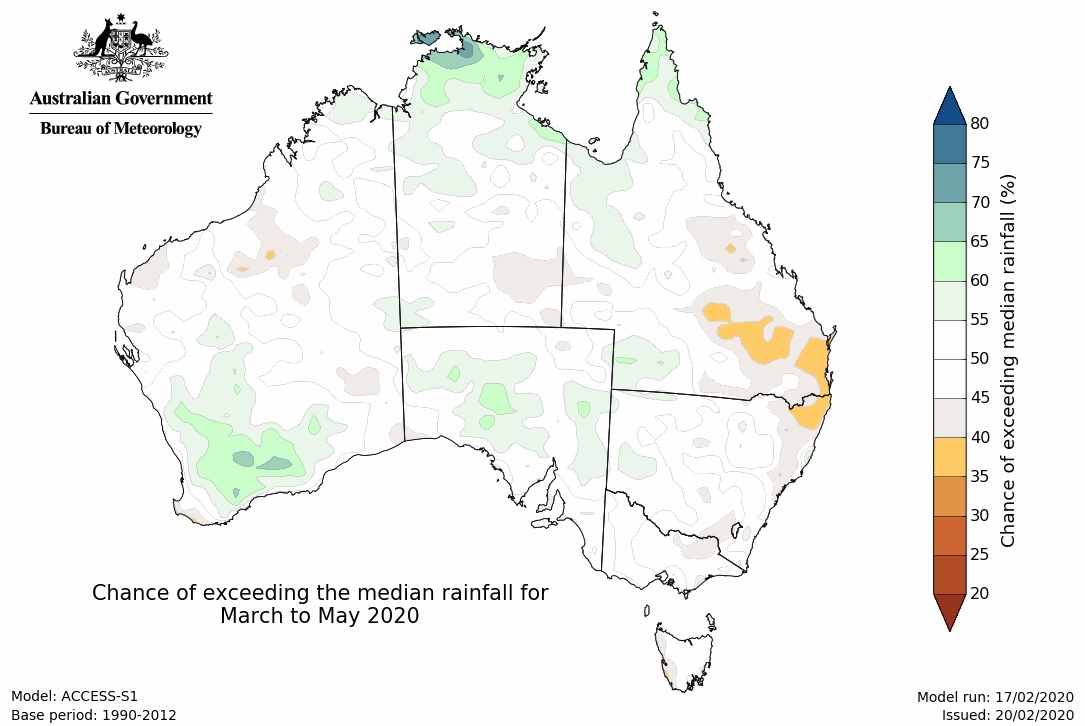 El Nino-Southern Oscillation (ENSO) remains neutral
ENSO remains netural. Atmospheric and oceanic indicators, including the Southern Oscillation Index (SOI), cloudiness near the Date Line, and sea surface and sub-surface temperatures in the tropical Pacific are at neutral ENSO levels.
However, trade winds, another ENSO indicator, are currently weaker than usual near the Date Line. This is a result of warmer waters in that area and tropical cyclone activity in the region.
Additionally, some surface waters in the tropics, near and to the west of the Date Line, are warmer than average, potentially drawing some moisture away from Australia. This pattern in the western Pacific is offset by anomalously by warm sea surface temperatures around northern Australia, which tends to increase rainfall.
International climate models surveyed by the Bureau suggests  that ENSO is likely to stay neutral until at least the end of the southern hemisphere Autumn suggesting it will have limited influence on Australia and global climates in the coming months.
The Indian Ocean Dipole (IOD) remains neutral. The IOD typically has little influence on the Australian climate from December-April.
The Southern Annular Mode (SAM) is also currently neutral and is forecast to remain neutral for the next 3 weeks. The SAM has less impact on Australia's rainfall in Autumn.
Prices
No price changes have been noted / prices remain steady this week:
Cereal hay: +/-0 ($260-$390/t)
Lucerne hay: +/-0 ($680-$800/t)
Straw: +/-0 ($170-$200/t)
Pasture hay: +/-0 ($360-$390/t)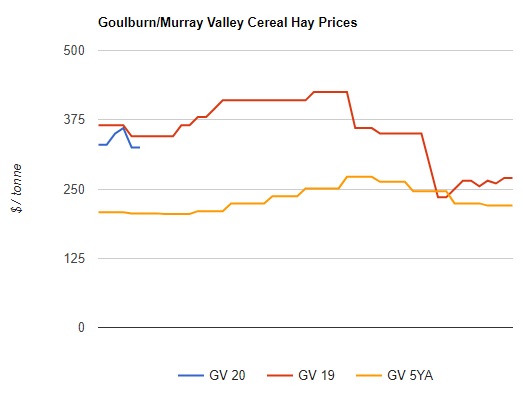 Pictures of New Season Crops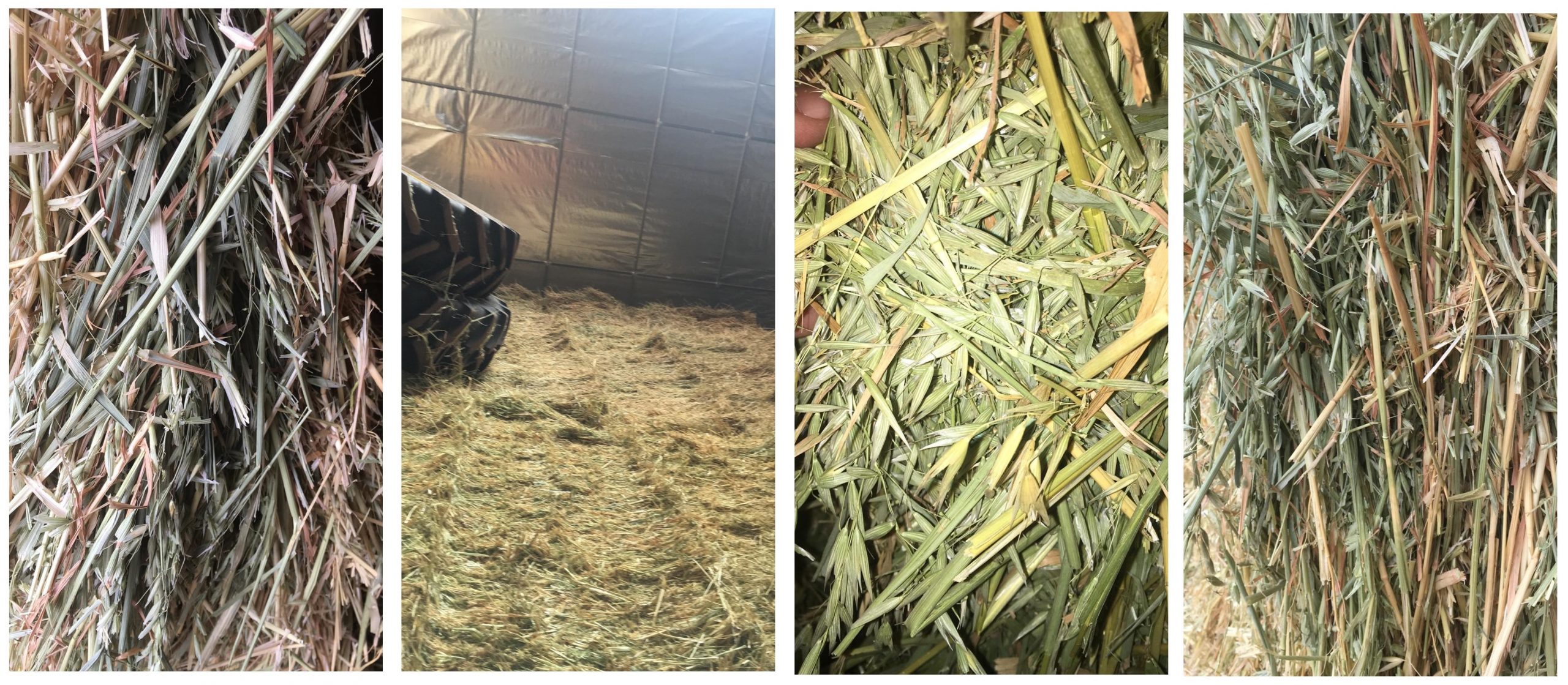 Hay: 650kg bales shedded
Location: Ballarat, VIC
Sources: Bureau of Meteorology, Dairy Australia, WX Maps, Lachstock Research, Weekly Times, Grain Central, Mecardo Expert Market Analysis & Feed Central, Wingara AG Limited.
By Kane Dempster, Wingara AG.