Seasonal Update
Good rainfall was reported in many parts of Australia over the past week. A milder winter has provided plenty of green feed for stock through New South Wales, Victoria and South Australia, easing demand. Two of the driest regions, the Darling Downs and Southwest Western Australia recorded 20-25mm.
The Goulburn/Murray Valley recorded 20-30mm last weekend. Light showers have continued to fall all week and the region is forecast for a wet week ahead. Urea continues to be applied to paddocks. The Mallee has also recorded good rainfall, this is important for farmers in Gippsland and the Western District who rely on this area for good quality hay. Crops in the area have lifted following the rain.
Widespread rainfall has been recorded in the South West Western Australia, with up to 25mm in some areas. Confidence has been restored but more follow up rain is needed to finish off the season.
The Southeast of SA received 10mm of rain for the last week and another 15-30mm forecast for the weekend. The rain has provided a much-needed boot to soil moisture and crops in the area. Urea is going out and the first winter sprayings.
Many growers have taken the opportunity to increase on farm covered storage in preparation for higher yields this season.
Border closures and permit requirements are a concern for contractors as we start to approach the new silage and hay season.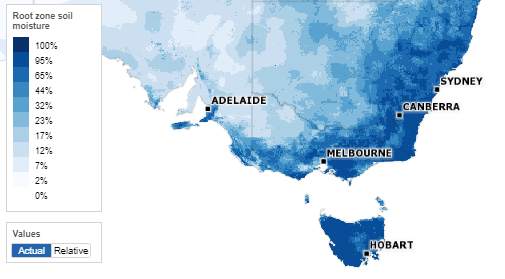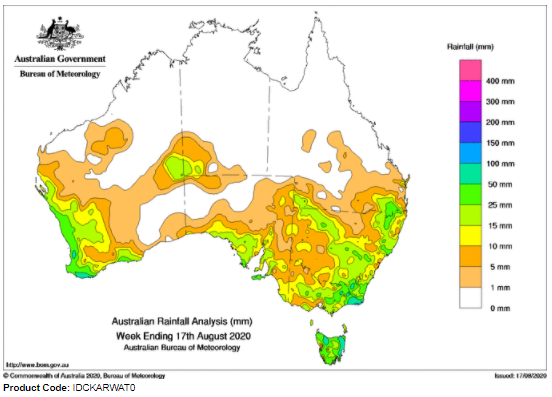 Trading and Marketing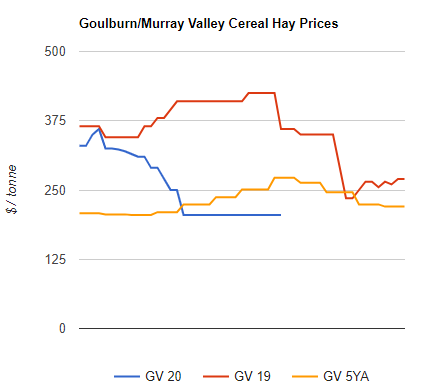 Victoria
Already, hay growers are bracing themselves for the domestic hay market to dip below $200 a tonne ex-farm for cereal hay. There is currently very little demand in the area as winter hasn't been as harsh as first predicted.
Tim Ford from Feed Central estimated a northern Victorian cereal hay price of $150 to $250/tonne based on a 600 kg bale weight, with the higher prices destined for the export market.
Demand is expected to be low for some time and growers want the ability to hold as much as they can on farm. Prices have remained steady this week. There is still very little movement across all states. Demand has not been there this winter as it has in previous years.
In general, there is a large degree of variety in pricing due to the low inquiry for hay in all parts of Australia. New season hay prices are expected to be low.
All prices remain steady this week.
| | | | |
| --- | --- | --- | --- |
| | Change | per t | |
| Cereal hay | +/- $0 | $190-220 | Steady |
| Lucerne hay | +/- $0 | $450-500 | Steady |
| Straw | +/- $0 | $70-100 | Steady |
| Pasture hay |  +/- $0 | $250-330 | Steady |
Western Australia
Reasonable hectares have been planted for hay this year. Cutting in the eastern growing areas will commence mid-September.
There is very little hay or straw left that is not spoken for in Western Australia. Straw, lucerne, and pasture are all currently difficult to source.
No changes to pricing to report this week as there is near zero availability of fodder.
| | | | |
| --- | --- | --- | --- |
| | Change | per t | |
| Cereal hay | +/- $0 | $330-370 | Steady |
| Lucerne hay | +/- $0 | $450-490 | Steady |
| Straw | +/- $0 | $120-140 | Steady |
| Pasture hay |  +/- $0 | $200-220 | Steady |
South Australia
Demand remains very slow in the region. Victorian stores that purchase small squares from SA are more inclined to keep their stocks up at present due to COVID-19. Demand was thought to improve as it does for most areas when feed is needed to carry over stock during the cold months but that has not occurred yet.
Lamb growers in the area that have kept stock after the market dipped still have plenty of feed in paddocks.
No change to pricing this week.
| | | | |
| --- | --- | --- | --- |
| | Change | per t | |
| Cereal hay | +/- $0 | $220-250 | Steady |
| Lucerne hay | +/- $0 | $330-350 | Steady |
| Straw | +/- $0 | $100-120 | Steady |
| Pasture hay | +/- $0 | $180-200 | Steady |
Pictures of 19/20 Season Crops
Hay: Oaten Hay JC-1 (Super Premium)
Specifications: Feels crunchy soft, no weather damage, sweet and fresh aroma, <1% Rye Grass, JC-1 Super colour (95% Green) and JC-1 stem size (<6mm). Inspected 4/12/2019.
Location: Caniambo, VIC, 3630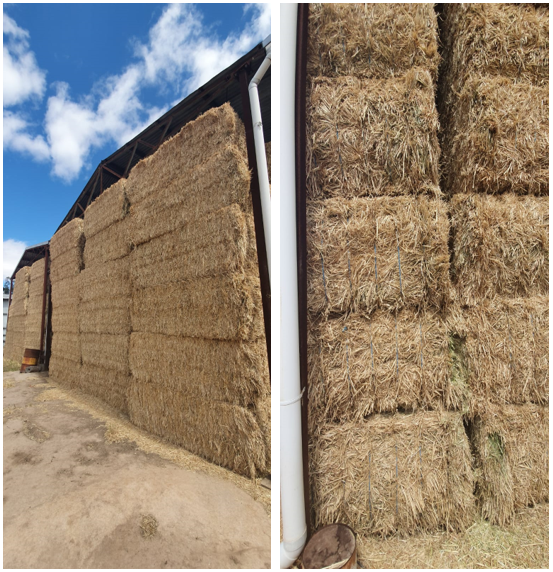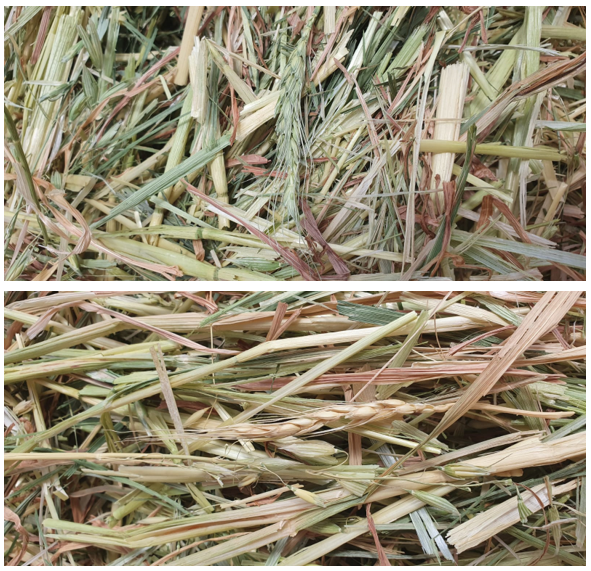 Pictures of 20/21 Season Crops
Hay: Oaten Hay
Specifications: Yallara Variety, estimated yield of 6mt/ha, soil moisture is good, seeding date 21/4/2020, inspected 24/5/2020
Location: Serpentine, Victoria 3517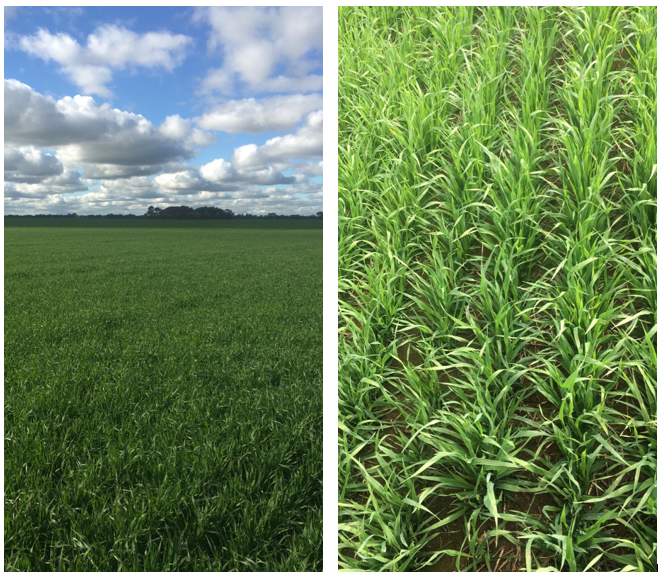 Sources: Bureau of Meteorology, Dairy Australia, WX Maps, Lachstock Research, Weekly Times, Grain Central, Mecardo Expert Market Analysis, AFIA (Australian Fodder Industry Association) & Feed Central.
By Katie Lindkvist, Wingara AG.